RMI Rocksichord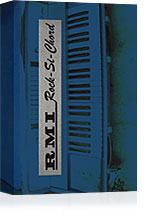 RMI, INC
Rocky Mount Instruments, inc was established as a division of the Allen Organ Company, a massive concern that was later to become a pioneer in the use of digital sound generation in electric organs. Its early products, such as The Explorer and The Lark, have been described as 'horrible' and 'ludicrous', but by the time the Summer of Love rolled around they came up with something much cooler :
"..In the 1960s, RMI introduced the first of its more famous keyboards: the Rock-Si-Chord, or 'Rocksichord' electric harpsichord. There were two primary versions of this, one with a single set of 8' oscillators (the '100' series), the other with 8' and 4' oscillators (the '200' series).
The original Model 100 offered just two voices, String and Lute, which you could select individually or as a pair. The more expensive 100A had five: Harpsi, Cembalo, Lute, Guitar A, and Guitar B. Moving up the range, the more powerful and slightly larger Model 200 offered the same two voices as the 100, but added an Accenter, which increased the decay rate of the 4' oscillators, thus making the sound more percussive. Then there were the 200A and the 200B. These were altogether more powerful beasts, offering more voices: Lute 8', Lute 4', Elect. Guitar A 8', Elect. Guitar A 4', Elect. Guitar B 8', Elect. Guitar B 4', Cembalo 8', Cembalo 4', Harpsi 8', Harpsi 4', and Tamboura 4', plus the Accenter. Given that you could combine voices and mix the 8' and 4' ranks using individual volume pedals, these provided a huge range of percussive instrument sounds.."
From an Article by Gordon Reid in Sound On Sound, Dec 2001 - 'Prog Spawn' .
Hall Of Fame
The Rocksichord has been used by a staggering array of artists, including :
The Beach Boys (on Sunflower), Genesis, Dr. John, John Lennon, Stereolab (on Sound-Dust), Sun Ra, Terry Riley (on A Rainbow in Curved Air), Rick Wakeman (solo and with Yes), and Wilco (on A Ghost is Born).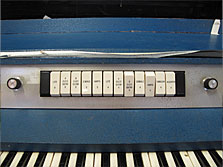 About This Rocksichord
A certain Mikael Jorgensen from Wilco mentioned to us that he had started sampling his ancient RMI Rocksichord keyboard, but hadn't the time to finish the looping and programing. We asked him how he would feel if we finished the job and offered it as a free download from the Soniccouture site.
Happily, he agreed, and you can now download the result.
Compatibility

Compatible with Kontakt v3, 4, 5.
Not compataible with free Kontakt Player (time limited to 15 mins before reset required)
---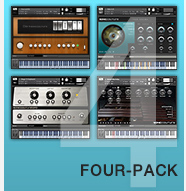 BUY ANY 3
GET THE 4TH FREE
Discount will be automatically calculated in the cart. Cheapest product is free.