Glass / Works
Sounds of Beauty & wonder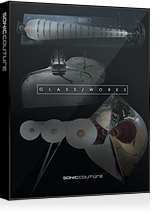 Glass / Works is a Kontakt player instrument which collects together 3 extremely unusual and rare musical instruments which use glass to generate sound : Le Cristal Baschet, The Glass Armonica, and a set of Cloud Chamber Bowls.
Just locating these instruments was a challenge in itself - the third in the collection, Cloud Chamber Bowls, proved so elusive that after a lot of research and enquiries, we realised that if we wanted to sample some, we would have to build a set ourselves. The first two instruments - Le Cristal and the Glass Armonica, as strange and beautiful as each other - required us to make a trip to Paris, to the studio of Thomas Bloch.
Version 2.0
First released in 2009, Glass Works now gets a full 2.0 update :
New Features in v2.0
New instrument / samples : Bowed Chamber Bowls. An airy, ethereal sound with realtime harmonic control via velocity or modwheel. 5 round robin samples per note.
New instrument : Cristal SFX. The SFX sound set from the v1.0 instrument rehoused in its own custom interface with the great new KSP 'FOCUS' function : map any sound across the entire keyboard with one click.
New GUI : each Glass Works instrument gets its own unique control interface with custom KSP options setup, dedicated effects page and more.
New Preset Library : 100 sound design presets explore every corner of the Glass Works sounds.
Glass Works 2.0 is also fully Kontakt Player 5 compatible.
Video Preview
THOMAS BLOCH : MASTER OF GLASS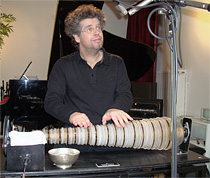 One man is ubiquitous when it comes to rare glass instruments ; Thomas Bloch. A classical musician specialising in rare instruments, Thomas is a virtuoso who has worked with many famous names - Radiohead, Gorrilaz, John Cage, Tom Waits, and Milos Foreman to name very few. He is best known for 3 instruments - Ondes Martenot, the Cristal Baschet and the Glass Armonica.
We contacted Thomas, and to our delight, he agreed to work with us. We travelled to Paris, and down a quiet street in the freezing January weather, we found Thomas working in his garden studio. We spent the next few days exploring the amazing range of sounds stored within. We would like to thank Thomas once again for his hospitality in Paris.
---
Compatibility

This is a Kontakt Player instrument. This means that you do not need to own the full version of NIKontakt to use it. It will run as a plug-in instrument in any VST/AU/RTAS compatible host program or DAW eg: Cubase, Logic, Ableton Live, DP, Reaper, Pro-Tools etc. No extra purchase is necessary.

The system requirements to run the instrument are :
Windows 7 or Windows 8 (latest Service Pack, 32/64-bit), Intel Core 2 Duo or AMD Athlon 64 X2, 2 GB RAM (4 GB recommended)
Mac OS X 10.7 or 10.8 (latest update), Intel Core 2 Duo, 2 GB RAM (4 GB recommended)
N.B. If you already own a full version of Kontakt, then you can also use the instrument in exactly the same way.
Requires Kontakt 5.1 or later
---
A KONTAKT PLAYER INSTRUMENT
SYSTEM REQUIREMENTS :
Kontakt 5.1 or later, or free Kontakt 5 player
Windows 7 or Windows 8 (latest Service Pack, 32/64-bit), Intel Core 2 Duo or AMD Athlon 64 X2, 2 GB RAM (4 GB recommended)
Mac OS X 10.7 or 10.8 (latest update), Intel Core 2 Duo, 2 GB RAM (4 GB recommended)
---