Massive Attack Producer Neil Davidge talks Novachord, Glass Works and Clash Of The Titans
10th August 2010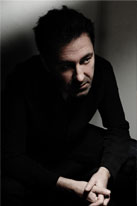 Producer and composer Neil Davidge is one of the people responsible for shaping the sound of Massive Attack ; blurring the line between atmospheric, dubby beats, song-writing and cinematic soundscaping. His compelling production style has led him to Hollywood, to work with some of the biggest names in cinema.
We caught up with Neil and asked him to share some of his thoughts about using Soniccouture instruments in particular, and production techniques in general.
You're a fan of Novachord ; what aspects of the instrument do it for you? what uses do you find for it in your productions?
"I'd never heard, let alone seen a Novachord before, I didn't quite know what to expect when I hit purchase, it was a leap into the unknown (although I've never yet been disappointed in a Soniccouture purchase).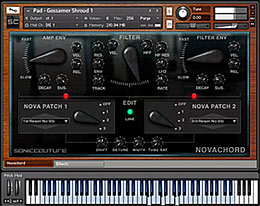 "I dislike fussy and plastic, self conscious and gimmicky 'modern' synths; this instrument has heart even when it bleeps. I used to spend hours trying to warm and add texture with amps and tubes, filters, mics, booths and assistants just to make a synth sit in the track and give it life; every Novachord patch feels matured straight out of the box. The 2039 'update' in no way compromises any of this; the additional features to the original are sympathetic and choice, as are the effects, giving the instrument a long life expectancy beyond the initial infatuation period."
Glass Works - you mentioned it was used in the 'Clash of the Titans' score which you worked on with Hans Zimmer. Can you tell us which sounds you used, and for what kind of purpose?
"I experimented with Glassworks 'Le Cristal' on the scenes where the gods are in heaven plotting against the unappreciative humans; i used both sustain and percussion sounds from it. Louis (the director) wanted to create an otherworldly sound-scape without it becoming sci fi. Originally I think he was going for tweaked acoustic sounds but when he heard Le Cristal that did it for him. Ramin Djawadi (who works for Hans) went on to compose orchestral parts to complete the pieces. I don't think there's so much of that on the OST apart from some effects on 'Written In The Stars' but there's plenty on the movie itself."
Which is your favourite Glass Works instrument ?
"I think my favourite instrument is the Glass Armonica, it's such a beautifully peaceful sound, anything I play sounds amazing on it."
Glass Armonica from Glass Works
What is it for you that makes SC libraries stand out from others out there?
"I came across Soniccouture fairly late I guess. I'd been stuck using G4 Macs with protools 6 and giga sampler for the duration of the Massive Attack album (Heligoland). We had 4 systems and to upgrade we'd have to do the lot which would have been costly and potentially put back an already overdue release. Towards the end of 2009 however I could see the light at the end of that long dark tunnel and bought an HD system for home with Kontakt and started trawling the internet for sample libraries. I think my first SC purchase was the Pan Drum. Since then I think I've bought most of the SC library and always look forward to new releases. As with the Novachord, I don't really bother checking the demos anymore, I go straight to the '+ ADD' button.
"I'm always looking for new and original sonics for my productions but I'm also fairly traditional in that melody and emotion are central to the music I write, SC always seem to come across sounds and instruments that are unique but expressive without simply being gimmicky and show off."
How are you enjoying Array Mbira?
"I'm really digging the Bayaka Arpeggiator patch right now, tons of fun just in that one patch. I love the fact that I can choose / mix between mic and pickup and tweak each and there's such a gloriously fat sound."
Do you have any requests for future SC instruments?
"I'll have a think but to be honest I could spend the next couple of years playing with what you guys have created and still not run out of ideas..."
What are you working on right now?
"Currently I'm working on material for a solo album whilst at the same time building my own studio. I moved out of the shared space I had with Massive Attack a couple of months back to concentrate on my own projects, it's been a slow process because the space was originally a large open plan apartment, it's almost fully functional now. I'm hoping to have the album finished in the autumn, after that I'll be getting back into the score world and maybe some writing for the next Massive Attack album."