Balinese Gamelan Stars In Indie Film Obselidia
26th January 2011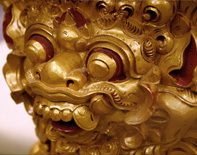 Obselidia, Diane Bell's debut feature, is an eco road-movie with recurring themes of nostaliga, obsolescence and apocalypse. As well as the award winning photography ( Excellence in Cinematography Prize at Sundance 2010), the movies' score, by Liam Howe, makes a big impact.
Howe is a UK based producer and composer, known for his 90s Sneaker Pimps project, and more recently some great production work for Marina & The Diamonds.
Liam was happy to share some insights into the processes of writing Obselidia's hypnotic score at his crows-nest studio, up among the roof-tops in London.
The Dramatic Nature Of Bells
Tell us about what attracted you to gamelan sounds for this project..
"I think it's mostly the Jegog you can hear there.. also, i must mention that i wasn't brave enough to use the original tunings, it's the western tunings you hear in the movie!
"because the film itself is about obsolete objects disappearing from the world, polaroids etc - like the novachord you've sampled, for example - the feeling of bygone instruments was very important. So I started to play around with an old toy piano, which has a very bell-like sound, and that led onto the idea of using gamelan, for its bell-like sound. John Cage did a piece for toy piano, which is interesting.. but they're a bygone thing, an old fashioned thing with an old fashioned sound.
"Also, the script has a lot of nods towards eastern philosophy in it, which gamelan links up with very well.
What is so evocative about bell sounds, in your opinion?
"The sound of a bell has a religious or spiritual component to it, i think. Also, when they were shooting the film, i knew that they had lots of windchimes featuring in the desert scenes, so i wanted to reflect that sonically. You have to be incredibly careful, as if it goes wrong, it can get a bit new age, and you're left with massage music!
" I also think that bells get a bad press, but I love them. i try to use one on every project i do. They remind me of Scott Walker and Phil Spector - very dramatic sounding. They can be very difficult to mix, because of the harmonics cutting through everything. You try to control them with EQ, but it doesn't quite work… you can't compress them either.. whatever you do sounds wrong, and you have to accept that IS the sound of a bell!
"Bells can sound either mournful OR celebratory - funerals and weddings, for example - which ties in with the very mortal theme of the film.. eco systems, and cyclic life systems. Bells and gamelan work well with those concepts."
Tell us about your experiences with other SC instruments?
"Well, i find that there's so much in some of the products, it's sometimes hard to find the time to discover all the script features, like the Guzheng tremolo!
In fact i created a similar sound for the obsilidia soundtrack, but in a much more old-school way ; I borrowed a santur, and played the strings with a hand-fan, to give a sort of mechanical tremolo sound, then sampled phrases and played them old-school style, shifting phrases on the keyboard."
Liam Howe in his London studio