By Soniccouture | 29.10.2012


Read More
Bat For Lashes' new album 'The Hunted Man' is garnering critical praise from all angles ; we talked to musical director Ben Christophers about some of the sonic tricks he uses to get the sound, and how Soniccouture instruments fit into the production.
Read More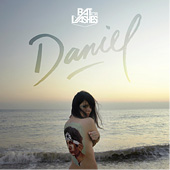 You & Natasha are big fans of Novachord; how does it fit into the Bat for Lashes live production?
" We have been using Novachord a lot especially for live work, it has some of the most expressive sci fi, David Lynch-like sounds that are the best for creating the atmosphere we want, but also add great depth, the string sounds were the first thing that struck me, I love the slow attack of some of them which I use on songs like Daniel from 'the Two Suns' Album. The Organ sounds are straight out of Eraserhead  and quite chilling, the Novachord gives me the reality of the sound and the scope to effect it within the realms of the real thing, the more I've got to know it the more I've appreciated it, the history of this instrument is great and still largely unknown so there is a mystery that surrounds it which appeals to me."
What is the usual production process with Natasha? Are you generating musical ideas for her to write around, or does she begin  ideas which you then help develop?
"There is no form at any time, apart from the emergence of the songs which is the bottom line, I am the MD for the band and also I'm involved with the recording process and every time it is all totally unpredictable which I really like,. On the Two Suns album we got to support Radiohead before the album was finished and this had a major impact on that record as we got to play to huge audiences on a massive stage for about a month and develop the sound before recording it, it's a great way of doing things as the songs come into their own after a while and you get a wider sense of what can be done no rehearsal room can give you that."
Can you name some of your most loved pieces of gear, and hazard a guess at what the magic ingredient is?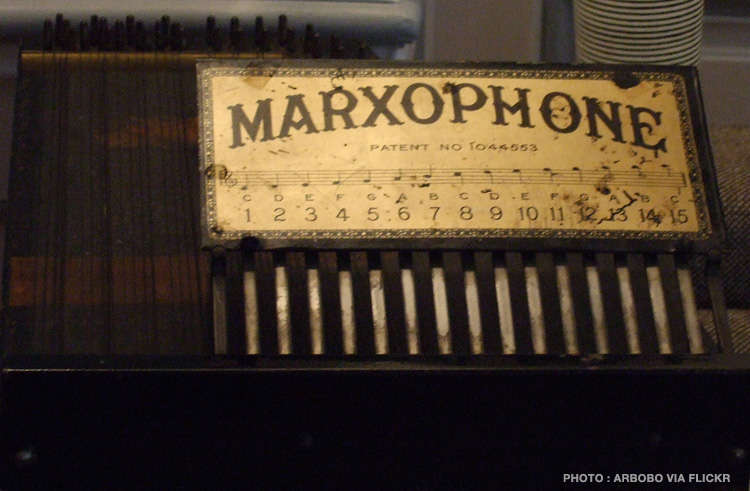 "I don't know where to start, I guess one that has been a huge influence on the band and me as a solo artist is 'The Marxophone' also something else I use to make the most ominous and haunting string sounds is something called a 'Phonofiddle' the magic ingredient with them is the otherworldliness they bring, utterly indescribable sounds and captivating. Recently I have been getting into analogue synths and have fallen in love with a Roland SH1000 (pictured), 1973 just as electronic music was beginning to see the light, the sounds are innocent and strong, so reactive and so complete I love it."
When producing a song or record for someone else, do you let the sound evolve; taking itself in whatever direction it goes during the process, or do you tend to visualise/'auralise' a sonic aesthetic when you first start work on it? If so, how rigidly do you stick to the vision?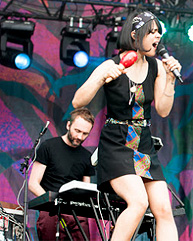 "I have a sense of the overall sound, can be imagery or even a film before I start work on it, but I almost always waiver and sometimes realise that was just part of the process and my perception was merely the whole thing in it's infancy, but my influences have a hold on me I hope in a good way and I have strong bench marks and processes I go through that often beat me up for a long time but are all pennies to throw in the well while I put it together.
Last year I worked with an Artist called 'Cold Specks' and it was obvious her "Doom Soul" sound was going to involve church bells and marxophones and anything else I could find in my weird spaceship, watching that album unfold was a great experience."
What is it about Soniccouture instruments that appeals to you?
"The basic sounds without a doubt, the eclectic choice is something else I'm really drawn to, the imagination of the tweaking options is great too, I am really enjoying Morpheus at the moment as we are using that live on a few things it has such a mystery to the sound, I know it sounds a bit nerdy but one thing I really like is the detail and care on the site that shows how you went about making these samples."
What is your philosophy towards sampled / virtual instruments? Do you prefer to use 'real' instruments and hardware gear where possible, or do you enjoy the flexibility of working in the box?
"I don't think I could ever get the same feeling or reactions I do from the other side of my music which is analogue / acoustic and the more eccentric instruments I use, for me virtual instruments are a different way of working, mixing all the technologies is cool and I try to have an etiquette with the virtual world as it's very easy to get emmersed in it and end up not really making anything new."
Close
Close