---
Frequently Asked Questions
---
Registration & Accounts
I didn't receive an activation email when i registered
Often account activation emails end up in spam folders or junk mail filters - please double check it isn't there.
If you cannot find it, please email us and we will authorise your account.
You can reset your password using the Password Reset link.
Where Can I register My SC Product? Can I get Free Content?
If you have bought an SC product from a 3rd party retailer, you can register it in your Soniccouture account. Go to the My Products page
You will be able to choose 1 free Exclusive Content Product for every product you register.
Note: If you bought a Live Pack from Ableton.com, you will need to contact us to register it.
Can I download products I own any time I like? How about in 2 years time?
Yes. Your Soniccouture account contains downloads of all products you purchase, and you can always come and download these whenever you need to ; like in the event of a hard drive failure, or setting up a new computer.
I can't find my serial number, can you resend it?
1. Only Kontakt Player and Live Pack products require serial numbers for activation - full Kontakt format and EXS24 do not.
2. You can find the serial number for your product ( if it has one) in your account> My Products, next to the product download files.
Can I sell / Transfer my Soniccouture Product?
If it is one of our recent, Kontakt Player encoded products, or an official Ableton Live Pack, then the answer is yes.
In either case, please contact us to arrnage this.
If it is an older product which has no serial number authorisation, then we regret but these cannot be transferred.
Can I Get A VAT Invoice For My Order?
Yes, you can download a PDF invoice in your account > My Orders
---
RAR FILES
I get an error : 'The structure of the archive is damaged (Error #17540)'
You will get this message if you click any RAR part other than part 1.
To expand a RAR archive you only need to click part 1, this then uses parts 2 and 3 to unpack itself.
To repeat, DO NOT CLICK PARTS 2, 3, 4 ETC!
What is a RAR file? I can't seem to open my download!
.rar is a compression format, like .zip. Windows users usually have this built in - if not you can download Winrar
For Mac OS X you need to download Stuffit Expander, a free utility that opens .rar.
Once installed Mac OS will open .rar. When you double click it. Please bear in mind that other utlitiies do give errors, so it is best to use Stuffit.
---
Kontakt Questions
I can't add my product to Kontakt's 'Libraries' tab - it just says 'no library found'
Only Kontakt Player instruments can 'officially' be added to the Libraries tabs within Kontakt. If the product you have purchased requires the full version of Kontakt, then you cannot add it here. You have to load the .nki files via Kontakt's file browser ('Files' tab at the top left, or load with the 'Files' menu in the top middle.)
This short walkthrough video shows you how :
Error Message : 'The patch is encrypted and can't be loaded unless the respective library is registered properly.'
You need to authorise your Kontakt library. Follow the 'Add library' procedure in the product's user guide PDF, under 'Installation'.
If you have already done this, but still get the error emssage shown above, then follow these steps :
1. Make sure you have kontakt in standalone mode and not plug-in mode.
2. Remove the library from Kontakt's library tab ( the cog/options menu in the bottom right corner of the library pane.)
3. Add the library again, and restart Kontakt. ( This will not require you to authorise again)
What is the difference between 'Kontakt' and 'Kontakt Player' ?
Don't feel bad for being confused - this issue is a fuzzy one for lots of people. Here are the facts :
KONTAKT is a software sampler / virtual instrument made by Native Instruments. You can use it to build your own instruments, or use the extensive library of sounds that come with it. You can also buy / use 3rd party sample libraries ( like many of our products) in it. Any library or instrument ( nki) that you load into it can be fully opened up edited and customised.
KONTAKT PLAYER is a free, restricted version of Kontakt. It has all the internal functionality of the full version, but it does not allow you to create your own instruments or modify libraries that you buy (apart from using the front panel knobs that may be part of that library). *IT CAN ONLY BE USED WITH COMMERCIAL LIBRARIES SPECIALLY ENCODED FOR KONTAKT PLAYER.*
If a library you want to buy says 'requires the full version of Kontakt' or doesn't say 'Powered by Kontakt Player ' or similar, then it will not run properly in Kontakt Player, it will time out after 15 minutes.
Do your Kontakt products run in Kontakt Player?
Most of our instruments are fully Kontakt Player compatible. These will be clearly marked 'Kontakt player compatible' and 'Powered by Kontakt' on the product web page.
However, some older ( and all the free downloads) Soniccouture products do require a full install of the retail version of NI Kontakt (versions 3, 4, 5) - This is listed at the bottom of each product page under 'Compatibility'.
Please be sure to double check this before purchasing.
Are your products fully compatible with Kontakt 5?
Yes, we have tested our older products with Kontakt 5 and all run smoothly.
Error message : 'the patch could not be opened unknown error' OR 'The patch is corrupt and can not be loaded'
This simply means that you need to update Kontakt to the latest version ( eg: 4.2.4, 5.1 ) in the NI Service Center.
---
Ableton Live Questions
How do I authorise my Ableton Live Pack?
If the Live Pack you purchased comes with a serial number, then it is an Official Ableton Pack and needs to be authorised in your account at www.ableton.com
To do this, simply login to your Ableton account and go to this link :
http://www.ableton.com/en/account/add_license/
N.B. Not all our Ableton Live format products are official Live Packs : if you didn't receive a serial number with your order, then there's no need to follow the authorisation instructions above, the livepack will install straight into Live 8 OR 9 and won't require authorisation.
What are the differences between a Live 8 pack and a Live 9 pack?
Functionally and sonically, the Live 8 and Live 9 packs are the same. However the Live 9 packs do live in a different place in the library structure (both on disk and in the browser), and also have 'Categories' (tagged metadata) assigned to them so that they show up in the Live 9 Category browser.
If I have Live 8 packs installed, do i need to install the newer Live 9 packs when I upgrade to Live 9?
No, you don't have to. Your old Live 8 libraries are still there, you just have to find them manually in the broswer, similar to the way you did in Live 8.
If you either re-install a Live 8 pack or install a new Live 9 pack, then the library is put into the Packs section in the browser. It becomes much easier to find instruments either by the Places browser, or the Category browser as well, since new libraries have categories assigned to them.
If I install a Live 9 pack, will it overwrite my Live 8 pack?
No, Live 8 libraries are NOT overwritten or removed from the old location when you install, so the data is on your hard disk twice if you simply do a new Live pack install using Live 9. (Yes, even if it's a Live 8 installer.)
Are the Packs available on the Ableton website different to the Live packs available on the Soniccouture website?
No, they are exactly the same.
We do also have the legacy Live 8 packs available for users that still require them.
What's the best way to update all my Live 8 sample packs to Live 9?
If you are upgrading to Live 9, and abandoning Live 8 forever, then follow these steps to get all your packs organised in the new Live 9 browser :
1. Download the new Live 9 Pack installers from your SC account where available, download the original Live 8 installer if not.
2. Launch Live 8, go to preferences>library
3. Select the relevant Soniccouture packs in the list and hit 'Uninstall' for each one.
4.Close Live 8 and open Live 9
5. Run all the .alp installers that you downloaded. Live will not ask you reauthorise packs that you have already registered.
Now all your Packs will show up in the Live 9 packs section, all nice.
What's the best way to remove my Live 8 libraries?
The easiest way to remove a Live 8 Pack is to use Live 8 to uninstall. (Preferences> Library>Uninstall).
This will take out all the bits and pieces; lessons, instruments, racks, samples and effects etc wherever they were initially put.
This option is not available in Live 9, so if you've trashed Live 8 already, then you'll have to remove old libraries manually.
If i remove my Live 8 pack and install the Live 9 pack, will my old songs still load up correctly?
No, Live 9 won't find them automatically, but there's a very quick fix. If you've removed the old Live 8 install, and then installed in Live 9, when you load your old song you will get the "Media files missing" orange-bar warning at the bottom.
In the Missing Media Files browser window on the right, you activate the Search Library "YES" button. Then hit "Automatic Search", and it will find the samples it needs by itself.
Then of course you can re-save your song in Live 9 format and it will remember after that.
I installed my live Pack but the folders in the browser are empty?
You need to follow the authorisation instructions in the FAQ above, then they will appear as normal.
---
Technical Enquiries
I don't own any of the compatible samplers, do i get access to the WAV samples so I can remap them in my sampler?
The WAV samples are fully accessible within our products (except Kontakt Player products), however we DON'T recommend you attempt to remap them. There are often many thousands of samples, several for every key, and to figure out the mapping we used would probably take months!
The exceptions to this rule are our loop-based products, Tremors 1 & 2, Abstrakt Breaks 1 & 2. Of course the WAV files are provided with these products, as well as other audio formats.
Are your samples recorded dry? I can hear reverb in the demos..
All our samples are recorded in studio conditions, very dry and close. Any room sound or reverb you hear in a demo will be from the reverb effects provided in the instrument.
I don't have Kontakt or EXS24, but my sampler says it loads Kontakt format. Will it be able to load Soniccouture products?
The short answer is : we don't know! The long answer is that our products are not tested with any other samplers, and while other samplers may load a basic Kontakt mapping without problems, they can't translate the sophisticated custom KSP scripting ( Kontakt's programming language) that Soniccouture products include. It's therefore extremely unlikely you will get satisfactory results.
---
Download Tips
1. Resumable Downloads
We recommend that you use Firefox to download - it will resume the download seamlessly if the connection is temporarily lost. this saves you time and us bandwidth!
2. RAR files
What is a RAR file? RAR is a compression format, like zip - Windows users usually have this built in - if not you can download Winrar . For Mac OS X you need to download Stuffit expander, a free utility that opens .rar. Once installed Mac OS will open .rar. When you double click it.
3. Multi-part RAR files - IMPORTANT
a) You need all RAR parts of the product fully downloaded to the same location before you start.
b) Then only click the first RAR file to begin unpacking the product. (You cannot unpack the other parts, part 1 simply uses them as a resource.) If you try to click any other part you will get an error message.
4. Don't Rush!
We recommend not trying to download more than 2 or 3 files at once - you'll get better speeds, less dropped downloads and stress the server less if you download fewer files at once.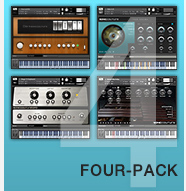 BUY ANY 3
GET THE 4TH FREE
Discount will be automatically calculated in the cart. Cheapest product is free.